TTI Success Insights Team Reports
Empowering People To Perform
Collaborative teams are critical to the success of organizations
Before a team can achieve business success, they have to identify the key players that can drive actions to achieve organizational goals
When leaders staff their teams, they often examine the solitary unit of one instead of considering how each player relates to the greater group.
TTI Success Insights' Team Reports enable leaders within the organization to understand the dynamics of their team and make decisions that develops a more effective group.
At TTI Success Insights, we reveal the human potential.
An effective team is one that not only has diversity in the traditional sense, but also diversity of thought. As the world's go-to source for talent management solutions, we enable leaders to understand the composition and potential of their teams. We do this by leveraging decades of experience in research into the science of behavior and motivations.
Introducing TTI Success Insights Team Reports
The future of an organization's success is in a leader's ability to build, retain, and engage high performing teams. TTI Success Insights Team Reports are informative, succinct assessment-based team solutions designed to enable leaders to take specific, targeted actions to address strengths and gaps within high performing teams.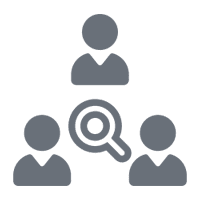 Examines the way people act or conduct themselves and is often considered the observable "how" in a person's choices.
Creates an understanding based on six basic interests, or motivators in an individual's life.
Reveals strengths and weaknesses as well as what motivates and engages individual team members at work and in life by addressing the "why."
This report blends Behaviors and 12 Driving Forces together in an integrated team report that blends the "how" and the "why" of an individual's actions.
See what the world is saying about our
team reports
"Leading a team requires many skills in the leader. It also requires much from the team. The foundation stones of mutual understanding — how everyone can best contribute to the team and it's goals, and strong easy communications, lead to superior team performance. To build this understanding and easy communications requires a clear, common language. The TTI Success Insights Team Report provides this in a condensed, visual and understandable format. We have successfully used the Team Report to bring transparency to CEOs and their teams on, for example, their strengths and weaknesses, how and where to build the team, how to align team members and roles and how to bridge communication and competency gaps. The distinguishing feature of the report is the use of visuals to clearly show the "how and whys" of team dynamics, strengths and weaknesses and how to improve on them.
Strongly endorsed."
CEO, One Focus Business Consultants, Ltd.
Master Distributor, TTI Success Insights Ireland
"I can fairly say that the new TTI Success Insights Team Reports have triggered dozens of follow up conversation, and then further conversations. In other words, many more opportunities. Those opportunities are leading towards more work. Work we might not have gotten. Work that will produce far more revenue than the initial assessments produced. Growth!"

Owner, The Advancement Company
Building the most efficient team starts with knowledge
Fill out this form now to learn more about
TTI Success Insights team reports.